Hot Hot sale – Volt Pilates – B2 beech wood classic studio reformer !
If you are looking for a high quality reformer at affordable price and can't do the decision yet, Volt Pilates B2 beech wood reformer is the best choice with best price & best value.
B2 classic studio reformer is designed for all Pilates lovers at an affordable price with high standard!
Price INCLUDE package: (valued at $685)
1 x wood pole
1 x sitting box
1 x wide soft platform
1 x jump board
1 x foot strap
1 x pair of double looped soft straps
1 x pair of soft loop handles
1 x tool kit
Features:
Frame: Premium beechwood with water painting
Spring bar: 3 positions adjustable spring bar
Springs: piano wire top quality springs, 3 red(full), 1 green(half), 1 yellow(quarter)
Foot bar: 6 positions with non-slip padding
Pulley riser: adjustable with clear scale
Head rest: 3 position adjustable
Shoulder rest: 8 positions adjustable for different shoulder shape
Wheels: 8 wheels system. It is the most popular and high-quality commercial wheels system. This system is smoother and quieter.
Carriage: soft carriage is more comfort
Carriage travel: 106cm max
Carriage size: 920x600mm
Soft platform: 680x240mm
Wider and durable foot bar size: 1000mm (more useful for the foot work )
Wood pole: 1220mm
Jump board: 700x500mm (jumping area)(WxH)
Sitting box: 700x400x280mm
Reformer Size: 2300*680*320mm
Stopper: 3 positions adjustable stopper
Spring holder: Each spring is hold separately in professional system, springs will not cross when you change springs, less noise.
Padding colour: Black
Max load bear: 110kg
32cm perfect height for pilates exercises! It is designed for all Pilates lovers at an affordable price with high standard!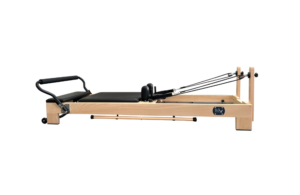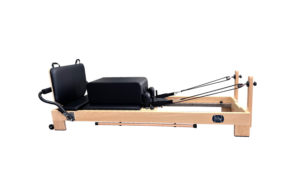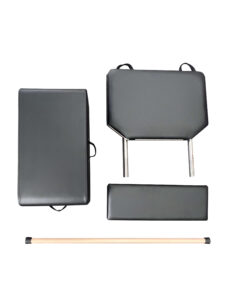 Showroom/office: 24 Healey rd, Dandenong South, 3175 Vic ( visit by appointment only)
Mention: Freight company quotation system is super busy these days. If you can't calculate the freight cost at check out, Please contact us for a freight quotation: https://volt-pilates.com.au/contact-us/